Iran unveils a slimmed down version of Thunderbirds 2!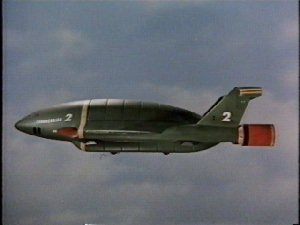 On second thoughts - no, the resemblance is quite thin!

But I'm sure this is going to be a cue for a whole lot of sabre rattling and hypocritical views about 'civilisations', 'wiping Israel off the map' nonsense from the usual suspects.

Iran unveils first bomber drone

Mahmoud Ahmadinejad (right) pulled away a sheet to reveal the "Karrar" drone

Iran has unveiled what it says is its first domestically built unmanned - or drone - bomber.

President Mahmoud Ahmadinejad said the plane could serve as a "messenger of death", but that its key message was one of friendship.

Iranian state TV later showed the "Karrar" aircraft in flight.

It said it had a range of 1,000km (620 miles) and could carry two 250-pound (115kg) bombs, or a precision bomb of 500 pounds.

The plane is the latest in a series of new pieces of military hardware unveiled by Iran.

"This jet is a messenger of honour and human generosity and a saviour of mankind, before being a messenger of death for enemies of mankind," President Ahmadinejad said after unveiling the Karrar at a ceremony with defence officials.

"The key message is friendship," he added. "We must make efforts to render all the enemy's weapons useless with our defence potential."

The unveiling came amid continuing concerns over Iran's nuclear programme.

Western states suspect Iran is trying to obtain a nuclear bomb, though Iran says its programme is designed to boost domestic power supplies.

On Saturday, Iran began loading fuel rods at the Bushehr nuclear power station built and operated by Russia.

The US said it saw no "proliferation risk" from the plant, though Israel condemned the move.
http://www.bbc.co.uk/news/world-middle-east-11052023